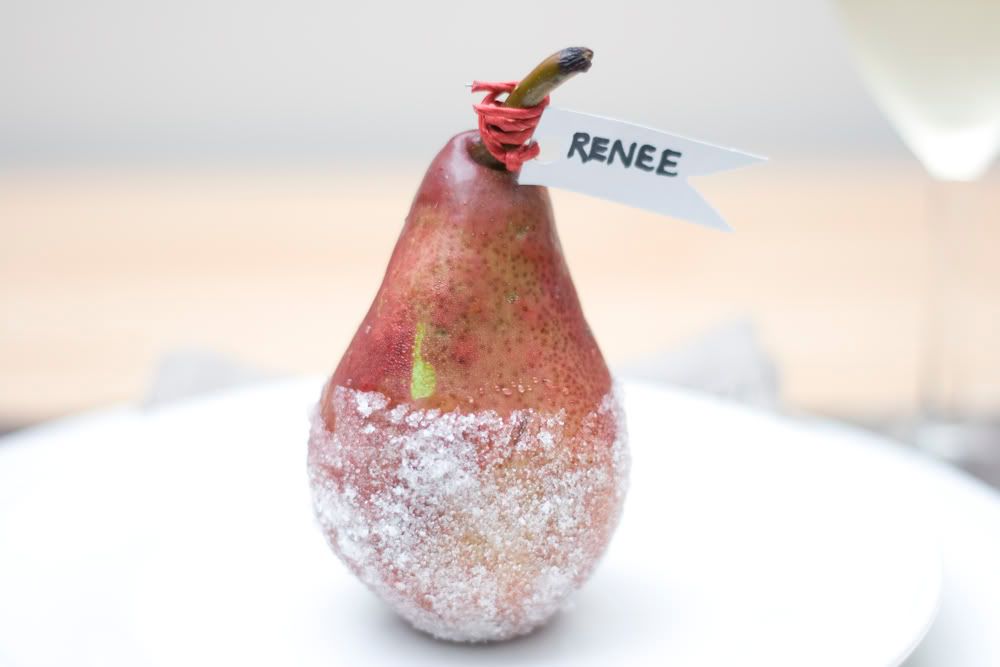 With Thanksgiving right around the corner, I wanted to come up with a project that would fit in with the holiday theme. I decided to create an easy place card for a holiday table setting using a pear. This sugar coated pear place card is not only incredibly easy to make, but will personalize any holiday table with a little style and class. Remember – it's all in the details!
What you'll need (for six place cards):
6 pears
1 egg white
1 cup of granulated sugar
Pastry brush
Thin marker
Cardstock paper in colour of your choice
Covered wire – available in the craft section at Dollarama
Hole punch
Scissors
Directions:
1. Using your pastry brush, apply the egg white to the lower half of your pear and cover well.
2. Dip the bottom half of your pear in the sugar giving the pear a good coat. Set aside on a cooling rack to dry.
3. In the meantime, cut your name card to the desired size and shape. Write the name of your guest and punch a hole on one side.
4. Next, loop your covered wire around the pear stem and through the hole on the name card and secure.
5. Now all you have to do is bring out the good china and silverware along with some simple cloth napkins and you'll have yourself a beautiful Thanksgiving table setting. Oh and don't forget the turkey!